All About Barcode
Label Printing
This is a guide to help steer you in the right direction with how to get your barcodes on your products.
If Your Product Packaging Has Not Been Printed Yet, Do the Following:
Forward the files we send you to your Designer or Printing Professional.
Instruct them to use the EPS if at all possible and ideally place the graphic at 100% the size provided.
Send them our

Output and Sizing Guide

(Right-click to download) if your product is small and needs to have a cropped barcode.
Your barcode should always appear solid black with smooth edges on the bars when viewing proofs from your professionals. If they have fuzzy edges or appear blurry or grainy, then your professional has not placed the proper file format and/or size.
Your cheapest and most professional way to get your upc barcode on your product is to have your designer or printer incorporate the barcode into the layout of the label. Then when your product labels are printed you are ready to go.
Your designer or printing professional will no doubt be using a professional program such as Adobe InDesign, Adobe Photoshop or Illustrator. They should import or place the Vector EPS version of the barcode for maximum quality.
Download our Output & Sizing Guide and the GS1 General Specifications
We created a simple Output and Sizing Guide for you to help you determine the optimal size of your barcode on your packaging.
<< Click on the image at left to download.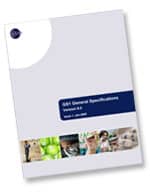 For a comprehensive guide to assigning your numbers to your products, applying the barcodes, the GS1 printing and graphics standards, how to use case and container codes, as well as shipping codes, you may download the GS1 General Specifications document.
<< Click on the image at left to download.
EZ UPC is proud to partner with Barcodes Unlimited and their online store WePrintBarcodes for you label printing needs.
They have been involved in barcoding since the late 80s and can give you what you need, quickly and affordably with free ground shipping and rush service for a small fee. Their prices start at around $40 for 1,000 stickers.
How to Save Big by
Printing Your Own Labels
Need to save every penny? Need 5000 or fewer stickers or print as you go? Save lots of money and do them yourself. Here's how.
We understand that most of you have invested heavily in your product and every penny counts at this point. If you are wanting to save as much money as possible and have the time and computer knowledge, you can print several thousand yourself.
We recommend using Barcode Label stock rather than Avery address labels because the size and proportion is just right and they are significantly cheaper. We found it here at: Label Outfitters.
We have no agreement with that company nor do we benefit from you buying label stock from them, we just found them to be the cheapest and have purchased from them ourselves.
Here is the template for the Compulabel 1.5″ x 1″ Barcode Label Stock listed above and compatible with the stock sold by Label Outfitters. We have put barcode placeholders in it to show you your options.
If you do not know Microsoft Word or how to use templates, we can make them for you for a nominal fee and you can still print your stickers yourself. Call or email us to inquire. Click on the image to download.  See our Tutorial below on How to Use the Template below.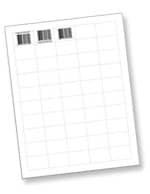 How to Use the Label Template
We have placed several barcodes to show you how it works and what your options are if you want to put description text above or below each barcode. Once you've placed a barcode in the template you can copy and paste to each cell.
We also find that it's easiest to keep track of if you make a whole page of all the same barcode/number rather than trying to put a different number across every row. That way you can print a full page of 50 stickers for one barcode and apply them to your products as needed.
With Microsoft Word you select Insert>Insert Picture>From File and select the file you want to insert from your order folder>UPC>TIF and make sure you select the box to "Link to File" so your output is high resolution.
Do not copy and paste barcodes from one program to another
—that will give you only a screen-resolution barcode and will likely not print sufficiently for scanning. The TIF is high resolution and must be kept that way so it is imperative that you Link to File and don't just insert.
It's always a good idea to do a test scan of a printout by taking a sample sheet to a nearby store and asking the clerk to scan it and see if it reads. If it is a good scan, it will say "item not found" or return the number of the barcode. If it is not a good scan it will beep at them and not produce any messages.
If at any time, you have questions about printing, applying your barcodes to your labels, etc., we are here to help. Our staff has 40+ years combined experience in design, printing, publishing, advertising, marketing and branding.
EZUPC We're Your UPC Easy Button! Your most transparent, reliable source for low-cost verifiable UPC codes since 2007.